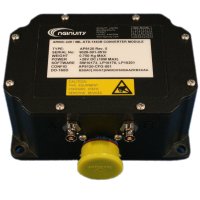 ARINC-429 <-> MIL-STD-1553B Converter (AP9120)
Product Overview
The AP9120 ARINC-429 <-> MIL-STD-1553B Converter, is a +28V DC powered bi-directional protocol converter module.
The AP9120 provides 4 channels of ARINC-429 TX, 4 channels of ARINC-429 RX, a MIL-STD-1553B dual redundant terminal (BC/RT/BM modes), 3 discrete inputs, 3 discrete outputs, 6 RT address select inputs and a discrete status output.
The AP9120 is a generic protocol converter providing uni-directional or bi-directional data conversion between the MIL-STD-1553B military data bus and ARINC-429 commercial data bus for a variety of applications.
Application customisation such as bus list, data rates, frame repetition rates, transfer functions and conversion mode (un-directional, bi-directional), is achieved by creating a customer specific configuration file, which may be uploaded in the field.
The RT address may be selected using discrete inputs, or hard coded in configuraiton.
In normal operation the MIL-STD-1553B bus A is used as the primary communications source, with periodic mode code messages being sent on bus B to check connection integrity.
In the event of a bus A failure, communication is diverted to bus B.
Product Features
Filtered 28VDC power supply (18-36V nom)
10 Opto-isolated discrete inputs
3 discrete outputs
1 Opto-isolated status output
4 x ARINC-429 Transmitters
4 x ARINC-429 Receivers
1 x Dual Redundant MIL-STD-1553B interface (RT/BM/BC)
Voltage spike protection
Supply brown out protection
Power on reset with Watchdog timeout
-40 to +70 operational temperature range
MIL-38999 series III electrical connection
Internal BITE and fault detection
Low power consumption
RS-232 maintenance interface
Reverse polarity protected
Internal over-current and thermal fuse protected
Typical Applications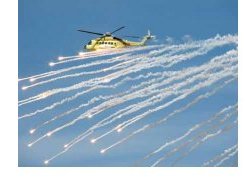 The AP9120 is fitted to the Sikorsky S-92 (VVIP), to provide interface between the MFD's and an ALE-47 chaff and flare dispenser system, as part of the electronic counter measures suite.
In this application the AP9120 receives ARINC-429 flight parameters from the MFD's, decodes, re-scales and re-encodes the information into a series of MIL-STD-1553B messages for use with the ALE-47.
In another application the AP9120 is fitted to a Dornier 228 fixed wing aircraft as part of a mission downlink system.
In this application the AP9120 is used as a MIL-STD-1553B bus monitor, collecting position information from the MIL-STD-1553B bus together with a number of discrete inputs, decoding, re-scaling and re-encoding as a series of ARINC-429 and RS-232 messages for use with a downlink system.
Typical Parameter Mapping
Typical transfer function used to convert ARINC-429 messages to MIL-STD-1553B format.
Input Parameters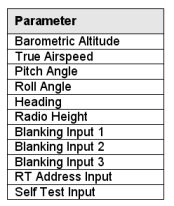 Transfer Function

Output Parameters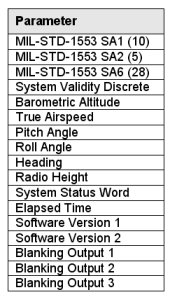 Electrical Interface
The AP9120 electrical interface is fully specified in Nginuity Interface Control Document AP9120MKXX-ICD which is available from our downloads page (login required).