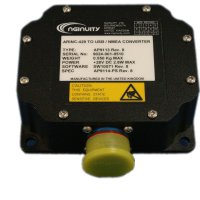 ARINC-429 to USB Converter Module (AP9113)
Product Overview
The AP9113 ARINC-429 TO USB / NMEA Converter Module, is a 28VDC powered ruggedised protocol converter module, comprising of 2 ARINC-429 input channels, 2 USB output channels and a discrete status output.
The AP9113 can acquire flight data parameters from up to 2 ARINC-429 sources, process and re-format the data and upload to the USB interface for use with navigational chart plotting software (NMEA).
In addition to the NMEA data stream, a secondary binary data stream is available to 3rd party software applications for bespoke display and data logging applications.
Both the NMEA and binary data streams are provided via a single USB interface and can be accessed directly using our API / LabWindows / LabView driver libraries or by means of a virtual communications port, whereby the AP9113 module appears as a standard COM port under Microsoft Windows and Linux.
Each ARINC-429 input channel can be configured for High speed (100KHz) or Low speed (12.5KHz) operation independently, and the resulting NMEA output stream can be assembled from parameters received on either channel.
The AP9113 module may be configured to select the source of the NMEA data, whereby some parameters may be taken from channel 1 and others from channel 2, or all parameters may be taken from channel 1 and channel 2 used for solely for reversionary mode.
The secondary binary data stream output, contains all received data from both channel 1 and channel 2 in sequential order, with each received parameter time stamped.
The AP9113 also provides a status output, which drives valid only when all parameters required to build the NMEA sentence have been received with valid parity, SSM and have been updated within a pre-defined timeout period.
Product Features
Filtered 28VDC power supply (18-36V nom)
Opto-isolated ARINC-429 inputs
Opto-isolated status output
Voltage spike protection
Supply brown out protection
Power on reset with Watchdog timeout
-40 to +70 operational temperature range
MIL-38999 series III electrical connection
Internal BITE and fault detection
USB 1.1 and 2.0 compatible
NMEA 0183 GGA and RMS compliant sentence
Receiver time stamp resolution of 250uS
Windows 2000 / XP / VISTA / 7 drivers
Lab Windows / LabView / Windows API
Reverse polarity protected
Internal over-current and thermal fuse protected
Parameter Mapping
As standard the AP9113 module uses the following ARINC-429 parameters to build the NMEA output sentence however other word formats / labels can be easily accommodated.
125 - UTC (GMT)
147 - Magnetic Variation
203 - Pressure Altitude
260 - Date
310 - Latitude
311 - Longitude
312 - Ground Speed
314 - Heading True
Software
The AP9113 module is supplied with our Situational Awareness Display Software (SADS), which provides a parameter overlay facility for mapping packages such as Jeppersen, Memory-Map and Fugawi.
Once installed, a single click of the SADS application icon will enumerate and configure the AP9113 module, launch and maximise the chosen mapping package, enable the NMEA data stream, and overlay any chosen parameters in the title bar.
In addition, the SADS software will log the following parameters to disk at a frequency of 1Hz.
(Note: Other parameters are available on request)
A unique file is created for each sorte, and the data presented in comma delimited ASCII for easy export into MS Excel or even Google Earth.
The AP9113 module is also supported by our Bus Inspector (Professional Edition) application, which provides access to all parameters on both input channels via a real time tabulated display, or simulated instrument display.
The Bus Inspector application also allows real time acquisition of both input channels at full bandwidth.
Electrical Interface
The AP9113 electrical interface is fully specified in Nginuity Interface Control Document AP9113-ICD which is available from our downloads page (login required).