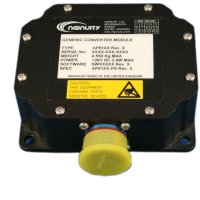 ARINC-429 to Encoded Altitude Module (AP9114)
Product Overview
The AP9114 ARINC-429 To Encoded Altitude Module, is a 28VDC powered ruggedised protocol converter module, comprising of 2 ARINC-429 input channels, 2 discrete speed selection inputs an 11 bit Encoded Altitude output and a discrete status output.
The AP9114 module, receives Pressure Altitude information from the ARINC-429 bus and re-formats the data into a parallel word compliant with the ARINC-575 Altitude Encoder specification.
The AP9114 module provides dual redundant opto-isolated ARINC-429 receivers, in the event the primary channel fails, data becomes invalid, or is not received within a specified period, the AP9114 reverts to the secondary input channel.
Each ARINC-429 input channel has a corresponding 12.5KHz / 100KHz speed discrete such that the bit rate for each channel can be selected independantly.
Product Features
Filtered 28VDC power supply (18-36V nom)
Opto-isolated ARINC-429 inputs
Opto-isolated Encoded Altitude output
Opto-isolated status output
Dual redundant inputs
Voltage spike protection
Supply brown out protection
Power on reset with Watchdog timeout
-40 to +70 operational temperature range
MIL-38999 series III electrical connection
Internal BITE and fault detection
Low power consumption
Reverse polarity protected
Internal over-current and thermal fuse protected
Parameter Mapping
As standard the AP9114 module uses the follwing ARINC-429 parameters and settings to build the Encoded Altitude output sentence word, however other word formats / labels can be easily accomodated.
Pressure Altitude Source - Label 203
SDI Mask - None
Data Timeout Period - 200mS
The AP9114 electrical interface is fully specified in Nginuity Interface Control Document AP9114-ICD which is available from our downloads page (login required).