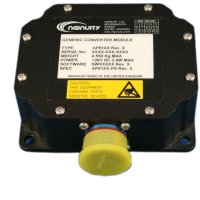 PED Power Supply Module (AP9117)
Product Overview
The AP9117 PED Power Supply Module is a 28VDC powered voltage converter unit developed to provide a low voltage regulated power supply for "carry on" portable electronic devices (PED's).
Typical applications include hand held GPS's, iPod's and portable video players.
The AP9117 is available in a number of configuraitons including 3.3V, 5V, 12V, 15V and 24V output with the option of 5W or 15W power rating.
The AP9117 is also available in dual, tripple and qual output rail configuraitons.
Product Features
Filtered 28VDC power supply (18-36V nom)
Opto-isolated shutdown input
Opto-isolated status output
-40 to +70 operational temperature range
MIL-38999 series III electrical connection
Internal BITE and fault detection
Reverse polarity protected
Internal over-current and thermal fuse protected
Automatic under voltage shutdown
Output Specification
Voltage set accuracy better than 1%
Voltage regulation 0.3% max (input variation 18V to 32V)
Voltage regulation 1% max (load variation 20% to 100%)
Ripple and noise 75mV pk-pk max
Temperature coefficient +/-0.02% per deg C
Output current limit @ 120% of rated output
Continious short circuit protection (auto recovery)
Capacitive load 6000uF max
The AP9117 electrical interface is fully specified in Nginuity Interface Control Document AP9117-ICD which is available from our downloads page (login required).