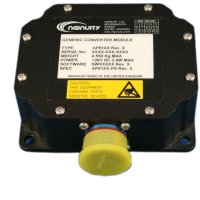 Discrete Interface Module (AP9119)
Product Overview
The AP9119 Discrete Interface Module is a 28VDC powered combinational logic interface unit.
Primaraly designed to provide an interface between the SFIM PA155D and Honeywell CDSR AFCS on the Eurocopter Dauphin (VIP CDSR), this product has now been deployed on a number of platforms offering various different discrete interface solutions.
The AP9119 provides 8 opto-isolated discrete inputs, and 2 opto-isolated discrete outputs, each of which may be individually configured for either active hi (28V) or active lo (0V) operation.
The AP9119 also has the option of an ARINC-429 output for discrete to ARINC-429 conversion.
The AP9119 contains a programmable logic device which can accomodate both simple combinational logic and complex transfer functions including ARINC-429 serial data output.
Product Features
Filtered 28VDC power supply (18-36V nom)
8 Opto-isolated inputs
2 Opto-isolated outputs
-40 to +70 operational temperature range
MIL-38999 series III electrical connection
Reverse polarity protected
Internal over-current and thermal fuse protected
Programmable Logic (felxable architecture)
ARINC-429 Serial Data Output (optional)
Typical Applications
The AP9119 is fitted to the Eurocopter Dauphin (VIP CDSR) to provde an interface between the SFIM PA155D and Honeywell CDSR AFCS, using the following transfer function.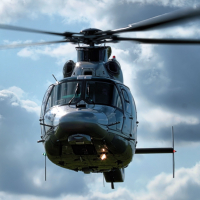 In another application for the Eurocopter Dauphin, the AP9119 is used to provide conversion from 5 discrete inputs to an ARINC-429 serial word for use with cockpit display instrument.
The AP9119 employs a generic architecture than can be easily accomdate a number of discrete to discrete or discrete to ARINC-429 solutions.
Please contact us for more details.