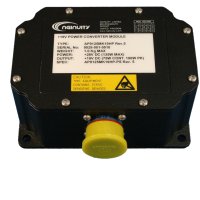 Laptop Power Supply Module (AP9125)
Product Overview
The AP9125 Laptop Power Supply Module is a 28VDC powered voltage converter unit developed to provide a low voltage high power regulated power supply for ruggedised laptop PC's in an airborne environment.
Typical applications include moving map, search and rescue the Metropolitan Police (ANPR) system.
The AP9125 is available in a number of configuraitons including 12V, 15V, 19V and 24V output with the option of 50W or 100W power rating.
The AP9125 can also accomodate custom output voltages in the range 12V to 24V in 0.1V increments, this must however be specified at the time of order placement and is not field programmable.
Product Features
Filtered 28VDC power supply (18-36V nom)
Opto-isolated shutdown input
Opto-isolated status output
-40 to +70 operational temperature range
MIL-38999 series III electrical connection
Internal BITE and fault detection
Internal over-current, over voltage and over temperature protection
Automatic under voltage shutdown
Output Specification
Voltage set accuracy 1% max
Voltage regulation 0.2% max (input variation 18V to 32V)
Voltage regulation 0.3% max (load variation 0% to 100%)
Ripple and noise 200mV pk-pk max
Temperature coefficient +/-0.02% per deg C
Output current limit @ 110% of rated output
Indefinite short circuit protection (auto recovery)
Capacitive load 1,250uF max
Start up time <25ms typ.