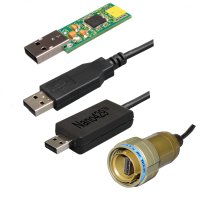 Nano429™ USB Avionics Interface Module (CP7039)
Product Information
The latest addition to our established range of successful ARINC to USB converter modules, the CP7039 Nano429™ family now provides the smallest possible ARINC-429 acquisition footprint without compromising on functionality and software capabilities.
The CP7039 Nano429™ Avionics Interface Module allows easy acquisition and display of avionic bus data. Nano429™ has a standard Universal Serial Bus (USB) interface giving quick and simple installation and set up with any laptop or desktop computer.
The product range converts a single channel of ARINC-429 data to USB, across all products.
The Nano429™ family provides the smallest possible footprint, allowing convenient and unobtrusive lab or on-aircraft acquisition of avionic data either for engineering testing or as a permanent fit connecting to a tablet PC or other equipment, feeding data to an electronic flight bag, for example.
The Nano429™ is available in four different mechanical forms, depending on your application:
a stand-alone OEM circuit card for integration in to your own product
cased with a standard USB type A connector
over-moulded as a standard USB Type A cable
integrated within a 38999 Series III military connector backshell
Except for the stand alone OEM versions, all products are supplied with an un-terminated 3 metre cable for connection to your ARINC 429 interface. You will need to terminate the cable correctly for your application or we can provide bespoke terminations. The cable is aircraft approved DR-25 cable to enable certification as a permanent fit, if required.
The military 38999 versions include a lightning protected ARINC-429 receiver. The MIL-DTL-38999 Series III product can be coded/polarized for two different orientations.
Product Features
Ultra compact size for single channel receiver - from 40 x 17 x 5 mm
Simple to configure and set-up
USB powered
Supplied with Bus Inspector software
Engineering units display
Real time acquisition or bus monitor
Visual & tabular display formats
Single channel high impedance receiver
32 bit time tag with 250μs resolution
Suitable for use with laptops & desktops
Windows 2000 / XP / VISTA / 7 compatible
Windows API, LabView & CVI drivers available
Operating temperature range: -15°C to +55°C
Extended temperature range: -40°C to +70°C
Military 38999 Series III versions only
Software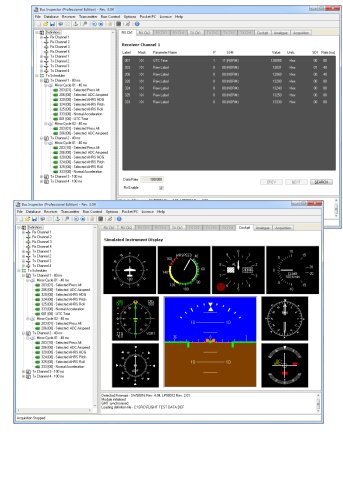 All Nano429™ products are provided with our Bus Inspector Lite software, whilst our Bus Inspector Pro software is available as an option, providing functionality to suit your needs.
Bus Inspector Lite is ideal for bench or on aircraft acquisition providing simple bus 'Sniff and Display'™ mode for rapid automatic monitoring and acquisition of bus traffic without any set up. Simply select the equipment type/ID to immediately see all the standard ARINC-429 data with engineering parameter names and in full engineering units. User defined words are possible if required for non-standard/ special word formats.
The received data can be displayed in both a visual and tabular format.
Bus Inspector Lite allows user defined engineering units conversion, and the ability to acquire data with time stamps to a file for export to spreadsheets and databases for further analysis. There is no limit to the number of words which can be received/defined. Bus Inspector Pro provides extended functionality ideal for system integration, verification and validation testing.
Bus Inspector Pro adds fully configurable set ups to allow display of particular labels and particular source and destination identifiers (SDI). Multiple fields within a single receiver word are supported, for example discrete flags mixed with a binary field. Multiple SDI reception of the same label with SDI specific word definition is also provided. In addition to these features, simultaneous real time acquisition and bus monitor operation are also supported.
Drivers
Software libraries and drivers are available for Windows API, LabView and CVI, to allow integration in your software applications.
Versions Available
CP7039-MK001
1 Rx channel stand-alone OEM circuit card with 10 way 2.0mm DIL header, 4 mounting holes.
CP7039-MK002
1 Rx channel stand-alone circuit card with USB type A connector and 3 way 2.54mm SIL header, no cable, no mounting holes.
CP7039-MK0013
1 Rx channel cased with USB type A connector and 1m ARINC 429 cable
CP7039-MK0033
1 Rx channel cased with USB type A connector and 3m ARINC 429 cable
CP7039-MK0034
1 Rx channel over-moulded with USB type A connector and 3m cable
CP7039-MK0035
1 Rx channel in MIL-DTL-38999 Series III backshell and 3m cable
Different cable lengths, customer specified cable terminations (un-housed 38999 pins, D-types etc.) or different military connector configurations (MIL-C-38999, different type, series, nickel finish etc) can be supplied on request - please contact us to discuss your requirements.
Data Sheet
Click here to download our product data sheet
(459.39 KB) EN

Buy Online
Popular configurations are usually available ex-stock and may be purchased online by selecting the part number from the pull down menu below.
Please note, due to high demand, all CP7039 products currently have a 4 week lead time.
All prices include UK VAT, sales tax and worldwide delivery as applicable. Shipping terms: DAP (Incoterm 2010). 'Nano429™' and 'Sniff and Display™' are Trademarks of Nginuity Ltd.