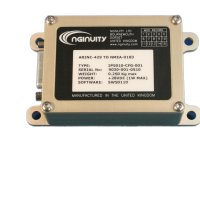 ARINC-429 to NMEA-0183 Converter Module (IP5010)
Product Overview
The IP5010 ARINC-429 TO NMEA Converter Module, is a 28VDC powered ruggedised protocol converter module, comprising of up to 4 ARINC-429 input channels and up to 2 RS-232 output channels.
The IP5010 can acquire data parameters from a single ARINC-429 source, process and re-format the data and output on an RS-232 interface for use with navigational chart plotting software (NMEA).
Each ARINC-429 input channel will automatically determine the ARINC-429 data rate (12.5kHz or 100kHz) present on the bus without the need for configuration link strapping.
The resulting NMEA output baud rate can be configured for all industry standard baud rates (4800, 9600, 19200 etc. up to 115200). Different baud rates can also be accomodated for each output port.
The IP5010 also has the option for either an RS-422 or USB interface as an alternative to RS-232.
The USB interface option is implemented as a virtual communications port, whereby the IP5010 module appears as a standard COM port under Microsoft Windows and Linux.
The IP5010 interface type (RS-232/RS-422/USB) and baud rate should be specified at time of order placement.
Product Features
Compact size 150x60x32mm
Filtered 28VDC power supply (18-36V nom)
Voltage spike protection
Supply brown out protection
Power on reset with Watchdog timeout
-40 to +70 operational temperature range
15 way filtered d-type electrical connection
Internal BITE and fault detection
Automatic ARINC-429 data rate detection
Up to 4 ARINC-429 receiver channels
Dual channel RS-232 Interface
RS-422 Interface (optional)
USB Interface (optional)
NMEA 0183 GGA and RMC compliant sentence
Custom proprietary sentences accommodated
Field loadable software capability (bootloader)
Windows 2000 / XP / VISTA / 7 drivers
Reverse polarity protected
Internal over-current and thermal fuse protected
Parameter Mapping
As standard the IP5010 module uses the following ARINC-429 parameters to build the NMEA output sentence however other word formats / labels can be easily accommodated.
125 - UTC (GMT)
147 - Magnetic Variation
203 - Pressure Altitude
260 - Date
310 - Latitude
311 - Longitude
312 - Ground Speed
314 - Heading True
Software
The IP5010 module provides an NMEA-0183 output stream containing GGA and RMC compliant sentences for use with 3rd party mapping packages such as Jeppesen, Memory-Map and Fugawi.
Electrical Interface
The IP5010 electrical interface is fully specified in Nginuity Interface Control Document IP5010-ICD which is available from our downloads page (login required).