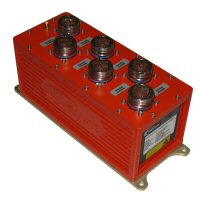 DAQ9000™ Data Acquisition System
Product Information
DAQ9000 is a comprehensive and highly configurable multi-function, multi-protocol, data acquisition / recorder system and data concentrator for use as a flight data acquisition unit (FDAU) or instrumentation data acquisition system.
A wide range of characterisation modules can be installed to provide the functionality desired, for digital and analogue input or output. Inputs are outputs are highly configurable by customers to allow the use of common hardware across a range of applications.
The DAQ9000 primarily consists of a chassis and power input / system controller module with recording, GPS and a real time clock to provide time stamping of data. Additional modules may then be selected to provide a range of functions to suit the intended application / installation.
DAQ9000 modules from the DAQ family provide functionality such as ARINC-429, ARINC-573/717, RS-232, RS-422, MIL-STD-1553B, CAN, IRIG-106-13, Analogue I/O, Frequency I/O, Engine Tacho, Potentiometer Input, Strain Gauge Input, Synchro and Discrete I/O.
DAQ9000 also provides dual Ethernet and USB interfaces for programming, data download, real-time display and to allow multiple DAQ9000 chassis to be interconnected as part of a larger, distributed, data acquisition system.
Product Features
Multi Function Data Acquisition System
Data protocol and format conversion
Flight Data Acquisition Unit
Data Concentrator
Flight Test Instrumentation
Interchangeable modular functionality
Input/Output and Combined I/O Modules
Integrated GPS, includes UTC time stamping of data
Interfaces to Nginuity Inertial and Air Data Sensors
All data processed internally in engineering units
Slot Zero Master System Controller
Flexible user configuration and parameter mapping
Up to 32GB Storage for Recording
Support for IRIG-106-13 TMATS file format
1GHz Parallel ARM Cortex DSP + FPU Processing
Software
The DAQ9000 product is supported by our DAQManager software suite. The DAQManager software allows each card in the DAQ9000 chassis to be configured / calibrated / mapped to the target sensor or data bus parameter, while simultaneously providing a real time display of the calibrated parameter. This provides a versatile and rapid method of sensor installation / calibration.
DAQManager also provides a sensor calibration wizard, to simply the calibration process. For a simple linear voltage output sensor, this process can take only a few seconds.
For serial output cards, such as IRIG-106-13, MIL-STD-1553B, ARINC-429 and ARINC-717, a frame builder utility is provided to provide control of parameter output order / repetition rates etc.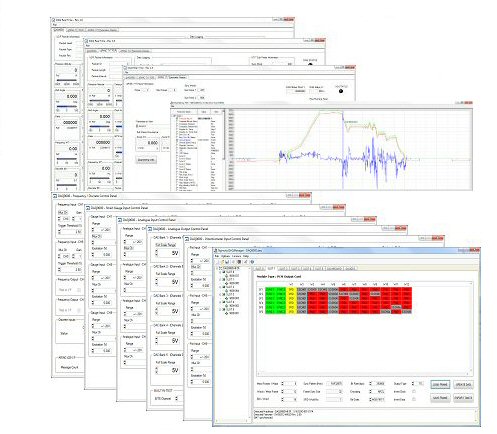 Graphical Presentation
A graphical presentation is included which utilises a flight instrument display format. This enables labels such as Altitude, Airspeed, Rate of climb, Heading, Attitule etc, to be displayed as shown.
UDP Real Time Display
In addition to DAQManager, the DAQ9000 is also supported by our DAQ-RT real time parameter display software. The standard Ethernet interface in the DAQ9000 unit is provided for maintenance and set-up purposes. A second Ethernet interface may be included for real time data output via UDP. DAQ9000 can output the full parameter list live to a laptop/PC for display as tabular/graphical data or as virtual instruments using our DAQ-RT real time display software.
Post Flight Replay and Data Analysis
The DAQ9000 is also supported by our DAQ-Replay, post flight data visualisation and analysis tool. DAQReplay provides a data download and decode facility for the DAQ9000, allowing data to be plotted and analysed post flight. DAQReplay also provides an export facility, such that data can be converted and exported in CSV format for porting into 3rd party applications.
DAQ9000 Chassis Options Available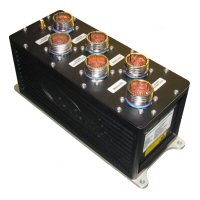 The DAQ9000 is available in flight test international orange or black fine textured powder finish, as well as standard and extended temperature range options.
Click here to download our product data sheet

(847.34 KB) EN

DAQ9000 Modules Available
9000-C01 - Slot zero controller module with Ethernet & USB
9000-001 - 12 channel strain gauge module
9000-002 - 12 channel potentiometer module
9000-003 - 16 channel analogue input module with thermocouple option
9000-004 - 8 channel frequency I/O module with discrete I/O and ARINC-429
9000-005 - 40 channel analogue output module
9000-006 - Multi-channel avionics interface module with ARINC-429 and ARINC-717
9000-007 - 8 channel analogue input module with thermocouple option
9000-008 - 4 channel frequency I/O module with HI-Z discrete I/O and ARINC-429
9000-009 - Multi-channel serial interface module with PCM
9000-010 - Multi-function interface module with opto-isolated RS-422, ARINC-429 and discrete
9000-011 - 8 channel ARINC-429 interface module with MIL-STD-1553B (BC / BM / RT)
9000-012 - 3 channel ARINC-407 Synchro interface module
Related Products
DAQAHRS - GPS / Inertial Sensor Module
DAQPOWER - High power, dual output power supply
DAQAIR - Air Data Module for flight test instrumentation
DAQHUB - Layer 2 Ethernet switch for DAQ interconnection
DAQMINI - Mini serial data recorder with on-board AHRS
DAQFDR - Crash survivable external recording module